This is a space for news, updates and musings on kink. Enjoy!
---
What a Treat: Worshipping My Bare Feet!
13th December 2018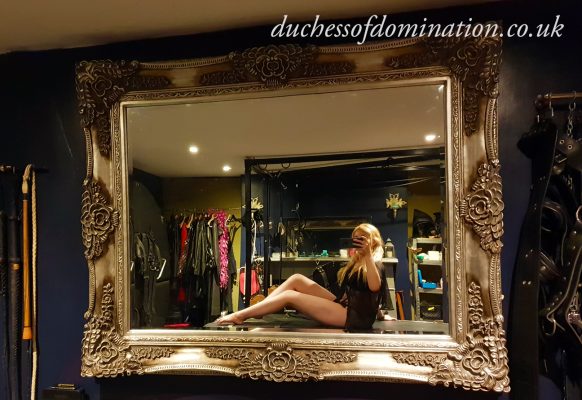 You don't know when the infatuation first began, but now you find yourself collared and on a leash, crawling behind me, entranced by each step I take in My 6 inch stiletto heels. You've heard tale of My pretty, petite feet and simply can't keep your eyes off of them. But you know I'm going to make you wait until I'm ready to reveal them to your hungry eyes.

I relax in My armchair with you as My footstool. Whenever you begin to falter, I scrape a heel slowly along your back as a gentle reminder that My comfort is paramount. As I search through My favourite shoe websites, I describe them to you in detail, showing you an image or two, hinting at what I would do to you when wearing each pair.

But you are not here for My heels; you are infatuated with My naked feet. So I sit you up and taunt you with a dangling heel. You still are not allowed to touch and your growing frustration makes Me laugh. I slip My heels off in front of you. Naked legs and naked feet – scandalous. You are breathless.

I lay you on the ground. My foot is a mere inch from you nose, but you still are unable to touch. You beg Me with your eyes; begging for sweet relief. I chuckle and command you to sniff, but not touch, as My foot is so close to resting on your face. I want the aroma to fill your nostrils, to overcome your senses. As your eyes close in contentment, I smother you with both feet.

You are instructed to lick My soles clean, to pay great attention to My high arches, to suck My toes; I am exacting in My instructions and you gratefully oblige. As your tongue darts between each toe and you writhe in ecstasy, I peer down at you. I savour your pleasure and the freedom you find in your foot fetish. Why bother with the mundane when you have ten beautiful toes to attend to?

I wonder, dear reader, if you too are a foot lover?
---
The Duchess' Favourite Implement: The Crop
4th December 2018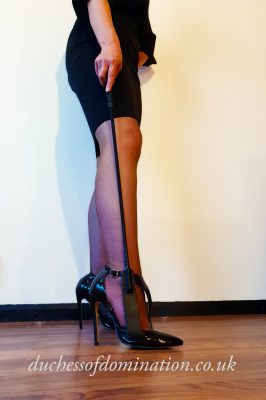 The riding crop has long been My favourite implement. The love affair began at My first riding lesson at the tender age of five and continues today as I use it to reprimand and reward My subjects.

The texture of the handle as it is laid across my palm, the length of the rod as I gesture towards you and the scent of the leather tongue as I press it firmly against your cheek as a warning… A firm flick of the wrist deployed wisely delivers the beautiful crack you've been longing to hear and to feel. It is a truly sensory experience.

I know that desperate glance all too well. So when you visit to receive your strokes from My personal riding crop, be sure you will have to work for them. Good things come to those who wait and I enjoy training you to become a very patient subject.

First, you are tied to the bench. I sit fondling My crop and musing over what I may want to do to you today. You can only catch a glimpse of Me out of the corner of your eye and I enjoy watching you struggle to see more.

I circle you, questioning you about your yearning to feel the sting of My crop against your bottom. You become distracted by the sound of My stiletto heels against the wooden floor. I decide you should beg to receive a single stroke. You should reveal just how desperate you are for My enjoyment. This makes Me giggle, as I can tell you really mean every word. So, I relent and gently trace the crop's tongue down the back of your neck, along your spine, to your tailbone; slowly, ever so slowly.

This wasn't the stroke you had envisaged, so I command you to describe in minute detail the sensations you experience when crop meets flesh. You are given a whole minute to explain this in exquisite detail, but the anticipation has muddled your mind and you fail to find the words you are searching for. I run the tongue of the crop up the soles of your feet, your calves and backs of your thighs, stopping short of your bottom. I notice you have stopped breathing and delight in the effect My cruelty has on you.

I continue My torment further, circling you, teasing you, ensuring your whole body totally desires the strokes I will deliver. I flutter the crop's tongue against your bottom, as you implore Me to strike you. Your begging reaches fever pitch, as you grip the bench tightly and begin to sweat. I haven't even delivered a stroke yet!

I take pity on My subject. I can see you are senseless with desire. Your growing patience is making Me proud; you have improved again. I adeptly flick the riding crop back and deliver the desired stroke. The electricity races from the stroke, through your bottom cheeks and reverberates throughout your body. You experience excitement and relief; it is delicious. And that is just the first stroke.

Desperate for more?
---
In Bondage to the Duchess
11th November 2018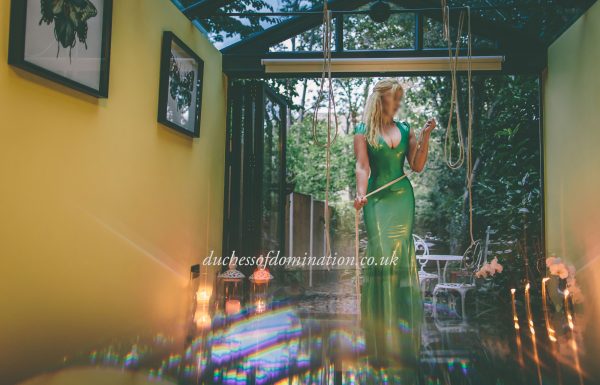 Today, I wish to discuss the beauty of bondage. Bondage is more than ropes, cuffs and chains. Its significance is contained within hogties, shibari and so on, but not limited to them. It is a relational process of allowing, receiving, giving and taking. It is about uniting and exploding paradoxes.

It is a precious moment when one of My subjects gives into the exquisite process of being bound by and to Me. We/we share a common love of and delight in the freedom, safety and creativity that restriction provides. Whether he is bound by rope or contract, bondage is a process by which I see, experience and connect with My subject. Whether I am caressing you with jute or rules and stipulations, I am holding a space for you to be your authentic self. I take your ability to do everything and anything, restrict your movement and actions and receive your adoration and devotion. I give to you the opportunity to experience playfulness, intimacy and understanding. I allow you to truly experience freedom through submission to a nurturing and controlling Dominant – a gift that lasts far longer than rope marks on wrists.

Through bondage, I guide you in understanding the complexities of your kinks and achieving your deepest levels of obedience and subservience.

Feeling curious?
---
A Voyeur's Delight
20th October 2018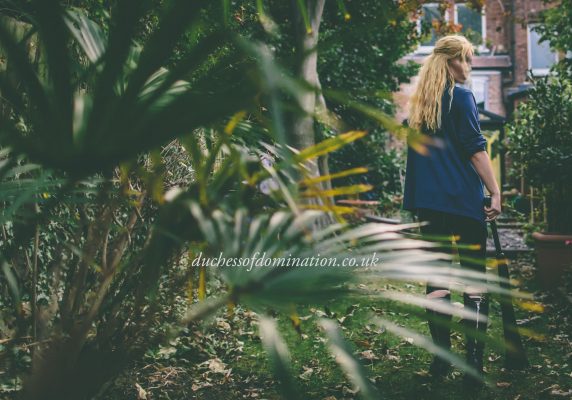 You've been secretly scrolling through the depths of the internet, page after page of debauchery and deviance, until one day you stumble across My perfectly crafted corner of this kink-filled universe.

At first, you are merely a voyeur. You return to the pictures, hungrily devouring each one. You linger over a few of your favourite sensual sentences. You mentally make note of the website address and contact details. You return a second, third, fourth time.

On the fifth visit, you dare to imagine a scenario or two. You imagine how I would look, eyeing you up, assessing you before I begin to torment you; how I would move, smell, walk; how I would talk, My accent, My laugh as I delight in teasing and torturing you; how My touch would feel, how a spank from Me would feel or the first stroke from My crop. Your curiosity is mounting alongside your arousal and you haven't even dared make contact yet.

You push these devilish daydreams to the back of your mind, but they simply won't stay put. They torment you at all times of the day: they are your first thoughts when you wake up; they interrupt you during meetings; they fluster you when you attempt to order your lunch. As you step into the cool breeze at the end of a long day of work, you notice your heart is beating a little faster than usual, your palms are sweaty, you're thirsty and your thoughts cannot settle. Your desires are beginning to assert themselves and you're enjoying the sensations.

It's late at night; you can't sleep. You remember each word and every detail of every picture. You give into you desires, your curiosity, your self. You take a breath and start typing. You wish to share some beautiful moments, revelling in submission, in kink, in being controlled. You wish to give in to the Duchess. This is the very beginning of your initiation into pure hedonism.

What are you waiting for?